The Flavor Saver EP Vol. 2
SLD001 – The Flavor Saver EP Vol. 2 – Nathan G, Blackfrog, Joe Pompeo
Release date: September 25, 2008
1. Like The Jazz – Nathan G, Blackfrong
2. Show Em How Its Done – Nathan G
3. So Addicted (Dub Mix) – Joe Pompeo
4. Try To Love Me – Joe Pompeo
5. So Addicted (Original Mix) – Joe Pompeo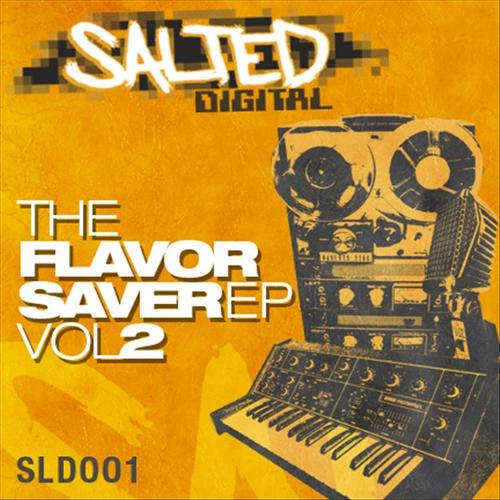 Release Info
Already making waves on dance floors in the underground circuit and receiving massive support from the industries top leading players such as: Miguel Migs, Jamie Lewis, Danny Krivit, Mark Farina, Grant Nelson, CJ Mackintosh, Johnny Fiasco, Tony Humphries, Richard Earnshaw, Fred Everything, Julius Papp, Aaron ross, and many more!
We begin things with Nathan G & Blackfrog's Like the Jazz. A floor fueled bouncy house number with plenty of thump and cut up jazz flavored riffs over a gritty electronic bassline.
Show Em How its Done is a soul/funk infused rocker consisting of classic disco elements and an over all uplifting energy.
Joe pompeo's So Addicted dub takes it deep and dubby with a bit of tech edge. Synth stabs and sax riffs sway in and out over crisp, solid house beats.
Try to Love Me is an upbeat bouncin cut. Simple and effective including sweet sax runs and a smooth old school flavored vocal hook.
*Written, produced, mixed & arranged by Nathan G & Blackfrog at Midnight Studios, Melbourne, Australia.
Published by: Deluxe Tempo Music ASCAP / Volume Records / Midnight Music Catalogue
**Written, Produced, Mixed & Arranged by Nathan G at the Luvlounge Studio, Melbourne, Australia.
Published by: Deluxe Tempo Music ASCAP / Volume Records
***Written, produced and arranged by Joe Pompeo. "So Addicted" vocals by Zoe Wilson, bass by Paul Gaita, sax by Scott Michael. "Try to Love Me" vocals by Kortez, sax by Scott Michael.
Published by: Deluxe Tempo Music ASCAP / New Propaganda Music ASCAP
EXPLORE MORE SALTED MUSIC