SLT255: Get Salted Volume 2 – Miguel Migs
Release date: September 22, 2009
1. Miguel Migs – So Far (Yogi and Husky Deep Wash Dub – Migs Edit)*Unreleased
2. Nathan G – 88 Keys To Love* Unreleased
3. Roberto De Carlo feat. Colin Corvez – You Are The One For Me (Miguel Migs Salted Dub)
4. Dutchican Soul – Get On Down (Unreleased Dub Edit)* Unreleased
5. Dirty Culture – Not Another Jazz
6. Jay-J feat. Charlene Moore – Love Alive (Jay-J's Shifted Up Dub)
7. Fred Everything feat. Tortured Soul – Lying To You (Fred Everything Dub)
8. Miguel Migs feat. Tim Fuller – Sometime (Migs Unreleased Salted Dub Deluxe)* Unreleased
9. Lisa Shaw – Like I Want To (Dutchican Soul Vocal Rub)
10. Twisted Rhythm feat. Stephen Granville – Get Up (Camilo Franco Cassagrande Mix)
11. Joe Pompeo – Try To Love Me (Miguel Migs Salted Rub-a-Dub)* 12. Miguel Migs – Life and Music (Migs Dub Edit Update)* – Unreleased
13. Yogi and Husky – It Feels Alright (Miguel Migs Petalpusher Rework)
14. Nathan G – Show Em How It's Done
15. Joshua Heath – Just Funk Me Already
16. Lovebirds – Love On My Hands (Love On Dub)
17. Andrew Chibale – Salsa Training
18. Hot Toddy – Critical – Unreleased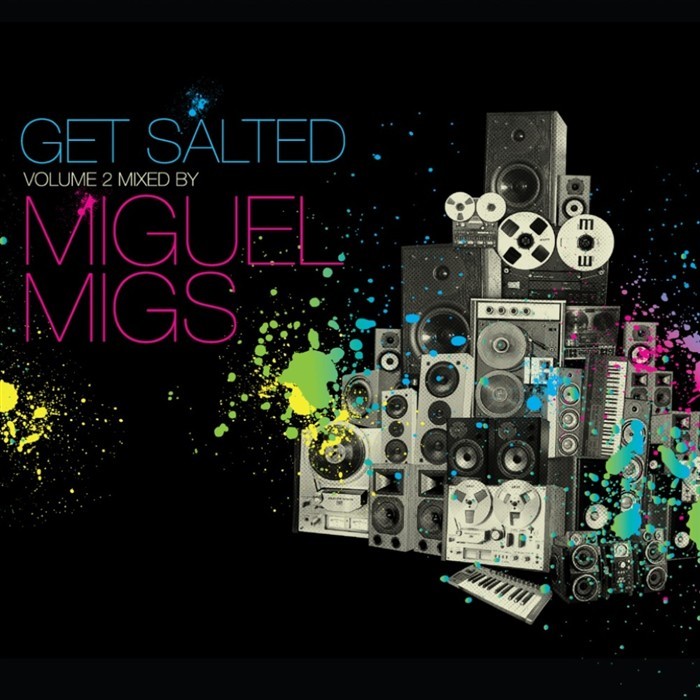 Release Info
Get Salted Volume 2 is the perfect CD for a day at the beach, at night at your house party or in your car driving.
Miguel Migs' "So Far" (Yogi and Husky Deep Wash Dub Edit) brings the vibe in gently with slow synths and a soothing vibe while Nathan G "88 Keys To Love" picks it up with some classic house piano stabs.
The space disco of Roberto De Carlo feat. Colin Corvez "You Are The One For Me (Miguel Migs Salted Dub)" is contrasted by the 90's Hip-House sound of Dutchican Soul "Get On Down" (Unreleased Dub Edit) and then again by the jazzy tech house of Dirty Culture "No Matter How."
Swingin' soulful grooves are shared by Jay-J with Charlene Moore "Love Alive (Dub)" and Fred Everything feat. Tortured Soul "Lying To You" (Fred Everything Dub) before Migs brings in a little R&B flavor with his own unreleased dub of "Sometime (feat Tim Fuller.)"
You get the point by now, don't cha? It's a soul/R&B/House/disco party mix that works equally well on large sound systems and little earbuds.
EXPLORE MORE MIGUEL MIGS MUSIC