The Northern Lights EP Vol. 1
SLT025: The Northern Lights EP V.1 – Phonic Funk
Release date: December 14, 2009
1. I Like It
2. Feel The Soul
3. The Rhythm
4. Why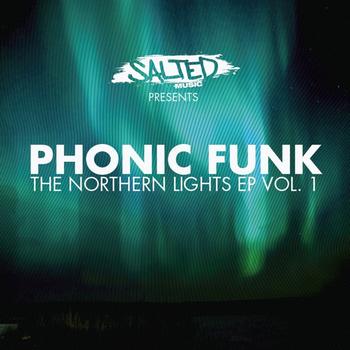 Release Info
We are delighted to deliver the latest installment from Salted Music and give a warm welcome to Europe's Phonic Funk!
Receiving massive support from Danny Krivit, Grant Nelson, Jon Cutler, DJ Spen, Tony Humphries, Ian Pooley, JASK, DJ Smash and many more…
The first in a mini series of multiple releases showcasing Phonic Funk's tight top notch production skills and ear for lovely, energetic, melodic grooves.
As usual we offer you a select choice of well crafted, quality house tracks to choose from. If your into tech, deep or big room surround sound, this EP comes equip with luscious layers, driving beats, swelling synths and classic melodies. on't trip, just enjoy the tracks, appreciate the production and play it if you feel it!
Please support indie labels and DO NOT copy or share! Respect and rock the disco-tech!
EXPLORE MORE SALTED MUSIC