SLT016: Life Is The Music – Sonny J. Mason
Release Date: September 24, 2008
1. Life Is The Music (Miguel Migs Salted Vocal)
2. Life Is The Music (Miguel Migs Salted Dub Deluxe)
3. Life Is The Music (Miguel Migs Bump the Tech Dub)
4. Life Is The Music (Original)
5. Life Is The Music (Miguel Migs Petalpusher Vocal)
6. Life Is The Music (Random Soul Vocal)
7. Life Is The Music (Yogi and Husky's Stripped Vocal)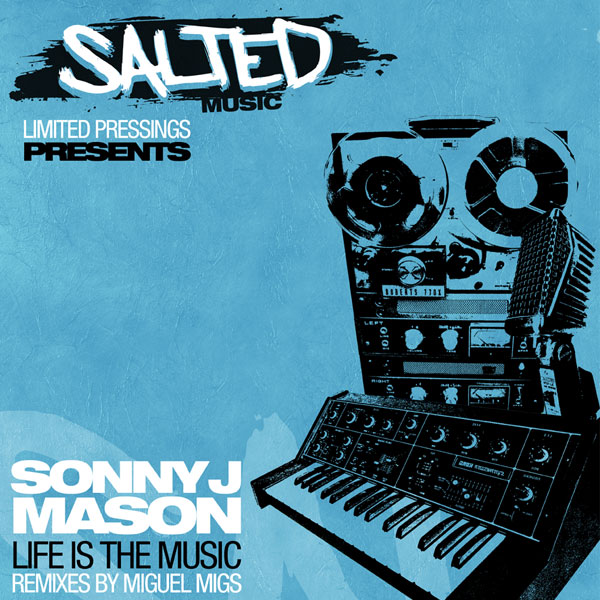 Release Info
Featuring major support from the likes of: Tony Humphries, CJ Mackintosh, Danny Krivit, Johnny Fiasco, Richard Earnshaw, Mark Grant, Colette, Nicolas Matar and much more…*We released this single as a promo in June for just a week and it hit #5 on the traxsource top downloads chart instantly! Then we pulled it down quickly because our vinyl distributer informed us they were way behind schedule on the release… Now we are re-promoing the single with some new versions so check it out!
It's rare these days that a song can rock the dance floor while maintaining quality and integrity but also leave you inspired by the message in the music. "Life is the Music" is a prime example of this combination. London's Sonny J Mason has done just that and delivers a refreshing uplifting vocal with positive meaning. This song has the right combination of energy and soul to make you move while singing along, because "Tomorrow ain't promised, so dance, cause life is the music."
Miguel Migs Salted Vocal focuses on the funky side of the soulful spectrum constructed around the infectious bass groove while luscious pads and various synth textures come together to create dimension around the main focus at hand, which of course is the vocal. Miguel Migs Salted Dub Deluxe strips it down and moves into slightly more techy territory with a bouncing bassline and dubbed out cut up vocal snippets. Miguel Migs Bump the Tech Dub delivers a breakbeat groove with a gritty electro-ish bassline filtering in and out while layered sweeping synth pads glide on top.
The original version is a midtempo soul stomper with classic hip hop and R&B flavor. Accessible to radio and club dj's alike this song has definite crossover appeal.  Miguel Migs Petalpusher Vocal has more of a classic deep house energy in the same vein as the Salted vocal but more stripped down, moody and soulful. The Random Soul Vocal and Yogi and Husky's Stripped Vocal gives the song a fresh deep house vibe and flavor adding a great bonus to the original package.
EXPLORE MORE SALTED MUSIC