Locombia
Zenbi feat. Martina Camargo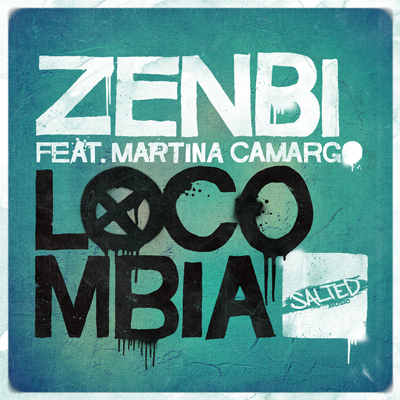 Available at: Traxsource | Beatport | iTunes
SLT059: Zenbi feat. Martina Camargo – Locombia
Release Date: October, 30, 2012
1. Locombia (Deeplomatik Remix)
2. Locombia (Manzanillo Sunrise Mix)
3. Locombia (Husky's RSR Rub)
4. Locombia (Bassed Down Edit)
Release Info
As we continue to strive to keep things diverse, interesting, fun and creative here at Salted – this Zenbi release is nothing short of the aforementioned and destined to cross some barriers while hopefully opening up some of the more closed minded senses.
Showcasing Deep, Tech, Latin and Funky sounds for all hours, this package delivers an exciting array of styles, all thoughtfully catering to the lovely Martina Camargo's fantastic original vocal (which is completely and legally sample cleared of course). Please give it a listen and enjoy the vibes!
Artist Feedback
Mr. V: Deeplomatik Remix for me!
Tony Humphries / Jacko: Nice latin-tech flavored track.
Soulmagic: Deeplomatik is the one for us. Deepful bliss!
DANISM (Defected Records): Dope music!
Nickodemus: Right in the crate!
Scott Wozniak: The Deeplomatik mix makes me happy! Nice one.
Groove Assassin: Pure quality from Salted as always!
Sonny Fodera: Nice! will be playing the Deeplomatik remix.
Andy (Inland Knights): Bassed down edit is cool.
Marques Wyatt: I'm Diggin this!
Manuel Sahagun: Summer latin vibe!
Richard Earnshaw: Locombia (Deeplomatik Remix) – cool jam.
Jask: Deeplomatik and Bassed Down mixes are favs… Nice work.
Trevor Mac: What can I say, the quality keeps coming.
Dj Mes (Guesthouse): Original instantly transports me to 1995. Husky mix will work well too. Top form!
Benji Candelario: Good tune!
Christian Alvarez: one word: PHAT! All the mixes are great, lead by Deeplomatik! Full support.
Jeff Craven (Large Music): Nice track with very appealing vocal line. I am gonna go with Husky's rerub- very driving and energetic.