Tonight feat. Meshell Ndegeocello
OM-565: Tonight feat. Meshell Ndegeocello – Miguel Migs
Label: Om Records
Release Date: May 15, 2012
1. Tonight feat. Meshell Ndegeocello (Crazy P Remix)
2. Tonight feat. Meshell Ndegeocello (Fred Everything Lazy Vocal Mix)
3. Tonight feat. Meshell Ndegeocello (Fred Everything Lazy Dub)
4. Tonight feat. Meshell Ndegeocello (James Dexter Remix)
5. Tonight feat. Meshell Ndegeocello (James Dexter Dub)
6. Tonight feat. Meshell Ndegeocello (Wildkats Dark Room Remix)
7. Tonight feat. Meshell Ndegeocello (Original Mix)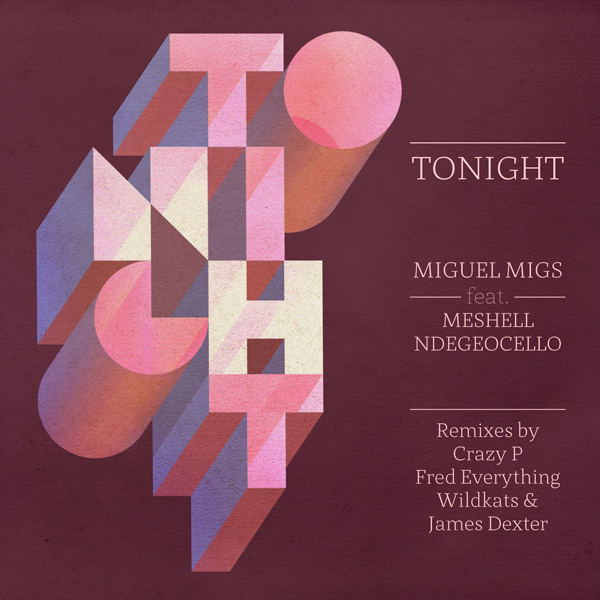 Release Info:
Taken from Miguel Migs' highly acclaimed 'Outside the Skyline' album – "Tonight" has genuine rossover appeal with supported radio plays from the highly influential KCRW among many others. Now< "Tonight" gets the remix treatment, showcasing the sublime and delicate vocals of Meshell Ndegeocello with a tasty array of quality interpretations.
Crazy P drops a funky filtered bassline accentuated by a lush and moody breakdown section, layering warm pads and subtle horn stabs.
Fred Everything brings the deep house heat catering respectfully to Meshell's dreamy vocal with layers of smooth and effective chords.
James Dexter stays true to the original version by using the main ingredients while giving it a more accessible, deep-disco dance floor appeal.
Wildkats explore a darker, more stripped-down dimension on their rework by flipping the timing of the vocal pocket while a squelching bassline fills in the gaps.
Great set of mixes! original is my fav for sure! crazy p for the floors but the other two are awesome as well! Just winners here!

Lovebirds/Kneedeep
Pure class! original & Fred Everything Vocal...

Rainer Trueby
Migs is the man! This whole thing is dope. Seriously I mean it. Will play this till the grooves get dug out.

Tom Hoch
Fred Everything Lazy Vocal Mix - nice one, also dig the Crazy P mix!

Henri Kohn

Ibiza Global Radio
James Dexter Remix and original mix its my favourite. Full support!

DJ Reeplee
EXPLORE MORE MIGUEL MIGS MUSIC