SLT031: Burnin' Up – Miguel Migs Feat. Sonny J Mason
Release Date: May 18, 2010
1. Burnin' Up (Dario D'Attis Vocal)
2. Burnin' Up (Dario D'Attis Dub)
3. Burnin' Up (Original Vocal)
4. Burnin' Up (Migs Deep and Spacey Dub)
5. Burnin' Up (Inland Knights Disco Biscuit Dub)
6. Burnin' Up (Fabio Tosti Under Club Vocal)
7. Burnin' Up (Fabio Tosti Under Dub)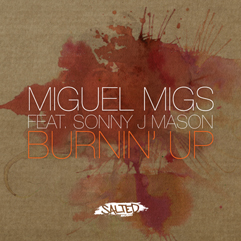 Release Info
Migs teams up yet again with the talented UK based vocalist/artist Sonny J Mason on "Burnin' Up"! Already receiving massive support from the likes of: Mr.V, Grant Nelson, Fred Everything, Raul Campos, Tony Humphries, Jask, Jeff Craven, Yogi & Huskey, Sonny Fodera, Danny Krivit, DJ MFR, Nathan Lee, Dutchican Soul, Russell Deeks and many, many more!
Sonny's unique and soulful style combine hints of R&B, soul, funk and disco, which are all on the menu with this uplifting and diverse package of quality dance music. Dario D'Attis delivers a vocal and dub both with peak time dance floor appeal. Techy synth stabs and a thumpin' bass groove along with tough dance beats and saxophone solos. Inland Knights bring the underground disco bump and grind with their late night dub interpretation. Migs' original evokes an 80's inspired funk vibe with choppy guitars, big horn stabs and layered synth pad swells. While the dub takes things into a deeper and laid back spacey atmospheric direction. Fabio Tosti strips it all down for a straight up classic house feel focusing on the steady beats, bass groove and vocal sitting on top, along with a dub version as well to finish things off.
Please support indie labels and DO NOT copy or share! Respect and rock the disco-tech!
Wow man... honestly really hard to choose one as all of them have diff vibes for different situations, dude all of them are nice!

Mr. V
Gonna rock this hard, full support!

Grant Nelson
The Dario d'Attis dub is on fire. Massive release!

Soulmagic
Fantastic release from Migs and the Salted family! I love the migs deep and spacey dub.

Raul Campos

KCRW
Wow! Another masterpiece of Migs here. The original and Migs deep and spacey dub are the ones for us. Full support and look forward to dropping this tonight!

Dutchican Soul
EXPLORE MORE MIGUEL MIGS MUSIC