Tonight feat. Meshell Ndegeocello
Miguel Migs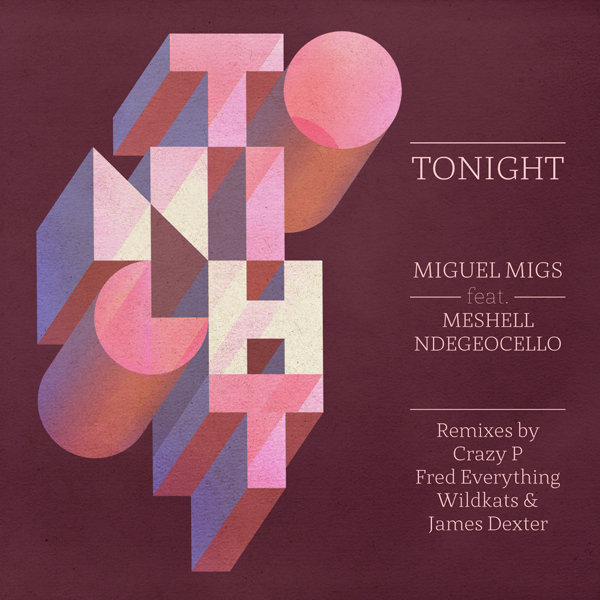 Available on: Traxsource | Beatport | iTunes
OM-565: Tonight feat. Meshell Ndegeocello – Miguel Migs
Label: Om Records
Release Date: May 15, 2012
1. Tonight feat. Meshell Ndegeocello (Crazy P Remix)
2. Tonight feat. Meshell Ndegeocello (Fred Everything Lazy Vocal Mix)
3. Tonight feat. Meshell Ndegeocello (Fred Everything Lazy Dub)
4. Tonight feat. Meshell Ndegeocello (James Dexter Remix)
5. Tonight feat. Meshell Ndegeocello (James Dexter Dub)
6. Tonight feat. Meshell Ndegeocello (Wildkats Dark Room Remix)
7. Tonight feat. Meshell Ndegeocello (Original Mix)
Release Info:
Taken from Miguel Migs' highly acclaimed 'Outside the Skyline' album – "Tonight" has genuine
crossover appeal with supported radio plays from the highly influential KCRW among many others. Now
"Tonight" gets the remix treatment, showcasing the sublime and delicate vocals of Meshell Ndegeocello
with a tasty array of quality interpretations.
Crazy P drops a funky filtered bassline accentuated by a lush and moody breakdown section, layering
warm pads and subtle horn stabs.
Fred Everything brings the deep house heat catering respectfully to Meshell's dreamy vocal with layers
of smooth and effective chords.
James Dexter stays true to the original version by using the main ingredients while giving it a more
accessible, deep-disco dance floor appeal.
Wildkats explore a darker, more stripped-down dimension on their rework by flipping the timing of the
vocal pocket while a squelching bassline fills in the gaps.
Artist Feedback
Danny Krivit: Love it, full support!
Tony Humphries / Jacko: Lovin' the mix of R&B, deep and funky house. Wicked!
Lovebirds/Kneedeep: Great set of mixes! original is my fav for sure! crazy p for the floors but the other two are awesome as well! Just winners here!
Atjazz: Fred Everything touched this with magic! 100% support from me! WOW.
Dubfire: nice tracks!
Kaskade: Amazing!
Rainer Trueby: Pure class! original & Fred Everything Vocal…
Mark Farina: Nice!
GIOM: Awesome package, every mix rocks, especially Crazy P!
Inland Knights: Crazy P mix is very very good!
Nickodemus: Love the old school sound of Crazy P's remix!
Dj Schwa (Shades of Gray): Wildcats are great! And of course the original!
Greg (Hardsoul): Good stuff!
Ralf GUM: Fred Everything mix for me. niceness.
Dj Alex from Tokyo: Great song and collaboration with great dance floor remixes!
Andre Lodemann: Wildkats Dark Room Remix is nice.
Alix Alvarez: Fred put in work. Digging the dub. Nice one.
Jon Cutler: Dope!!!
Tom Hoch: Migs is the man! This whole thing is dope. Seriously I mean it. Will play this till the grooves get dug out.
Ralph Lawson: Crazy P all the way baby!
Florian Kruse: WICKED release! Stunning mixes! my fav is fred's interpretation. Love the chords in there…
Benji Candelario: Crazy P Remix – Good Tune!!
Kiko Navarro: very good mixes from Crazy P and Fred Everything, thanks!
Rasmus Faber: Beautiful selection of mixes here Miguel. Full support from myself as always.
Soulmagic: It's like Christmas every time there is a new Salted promo. What a release this is! We are fans of Crazy P for ages and their remix is insane. We can rock every mix in the package. Thanks!
Richard Earnshaw: Nice set of mixes!
Sonny Fodera: All mixes are tight!
Karol XVII & MB Valence: Wildkats remix is nice.
Dave Mayer: This is HUGE!! Very cool remixes!
Christian Alvarez: This is what I can say, SEXY. Great release!
Andy Ward: Right behind this. Acieeed!
Chris Lake: crazy p is great!
Trevor Mac: Crazy P ALL THE WAY!
Seb Skalski: Crazy P remix is awesome!!
Groove Assassin: Release…. Super package… HEAVY support!
Manuel Sahagun: Top notch production over here. I think Fred's dub will fit best on my DJ sets. Lovely work guys!
CJ Mackintosh: Fred Everything & James Dexter mixes are working.
Joshua Heath: Before listening I figured Crazy P would get my pick, but I gotta give it to Fred on this one! James Dexter remix is smooth as well, nice package all around.
Julius Papp: Easy to support with favorite mixes from Fred Everything and James Dexter plus Miguel's original version. Diggin' it!
Jay West: wildkats!!!
Dj Lego: Seductively awesome. The James Dexter Remix and Original do it for me.
Evren Ulusoy: Full support on this beatiful package!
Chris Samba: Feelin the Crazy P for some sunset sessions.
Sir Piers: There's a kicking mix for every dance floor moment in here! Full coverage! Thank you to Salted & all involved for the 'true ' music.
Franco De Mulero (Ibiza): Massive support!
catz n dogz / 3channels: CRAZY P is the one here!! Fred everything of course is great too!
Joshua Iz: Hot mixes – I'll find a good home for a few! Thanks.
DA SUNLOUNGE: Crazy P mix for me, has a great bassline that just locks you in. Wildkats also do a great job on this.
Dr Bob Jones: James Dexter does the business for me. Nice production all round.
Neil Aline: Crazy P – great remix!
Timo Garcia: always a fan of Miguel so will pop this on my pod for my travels to Korea this weekend.
Moodymanc: Brilliant pack! love it! all great mixes. Dexter the immediate grabber for me…cheers!
Stuart Patterson: Fred's are my faves of a good set of remixes.. still liking the original for a good slow jam.
Jask: Nice package of mixes…Crazy P and Fred faves
Jay-J: Thats some funky stuff right there. MR. Crazy P does it again!
Sleazy McQueen: Dig that Crazy P!
Lars Berger: No fave here. All mixes are ace! Will spin this for sure. 10/10+!
Nacho Marco: Nice package of remixes, for me it¥s all about the Fred Everything Dub!
Christian Martin: Fred's dub is the one for me. Thanks!
Q-Burns Abstract Message: Crazy P version is definitely the one for me, with Fred's dub close behind.