The System feat. Capleton
Miguel Migs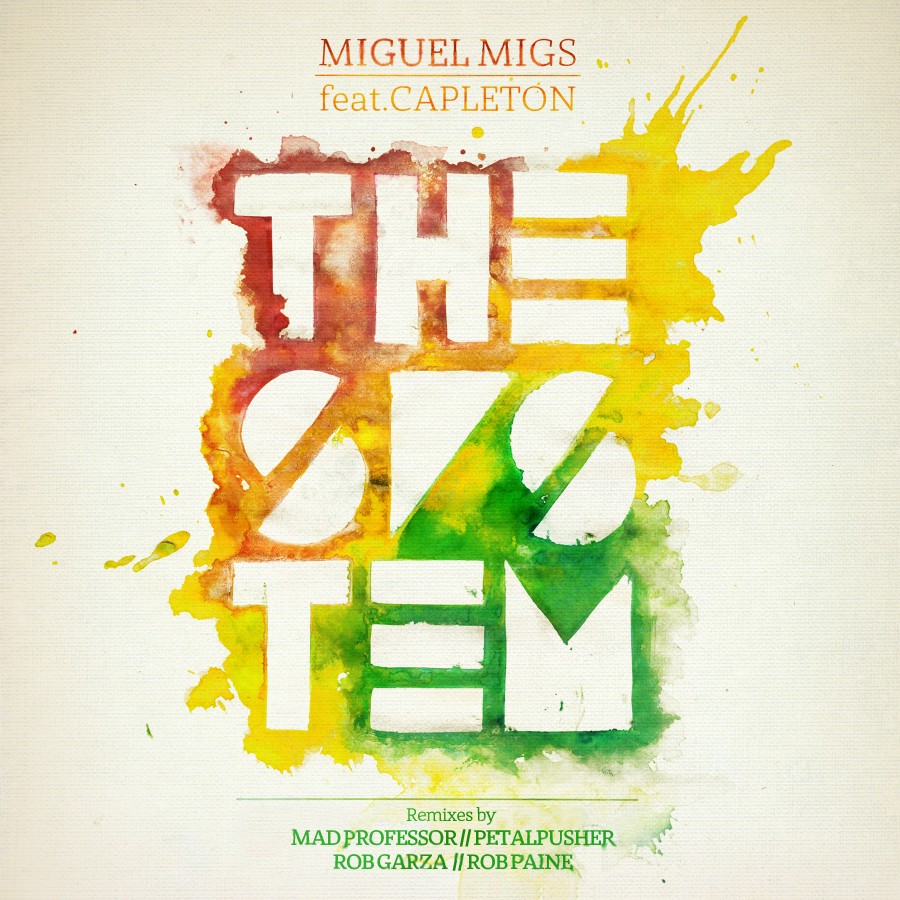 Available at: Traxsource | Beatport | iTunes
OM-537: The System feat. Capleton – Miguel Migs
Label: Om Records
(Mad Professor, Rob Garza, Petalpusher, and Rob Paine remixes!)
Release Date: January 24, 2012
1. The System feat. Capleton (Mad Professor Dub Version 1)
2. The System feat. Capleton (Petalpusher Salted Disco Dub)
3. The System feat. Capleton (Rob Garza Remix)
4. The System feat. Capleton (Original Mix)
5. The System feat. Capleton (Mad Professor Vocal Mix)
6. The System feat. Capleton (Rob Paine Remix)
Release Info
Special Limited Edition – For fans of Reggae, Dub, and Dancehall sounds!
Featuring dancehall legend Capleton, this unique standout track from Migs' recent full length album 'Outside the Skyline' captured the attention of none other than Dub legend Mad Professor!
Where Migs created a beat-driven, bass shaking tune, Mad Professor halves the tempo, saturating the track with space delays, big reverbs and classic Dub style elements.
A steady rhythm lights the way through an absolute haze of echo and vocal chops. Rizzlas recommended!
Also on point is the triumphant return of the Petalpusher moniker for a slow and steady deep-Salted-disco-tech groove. Thievery Corporation's Rob Garza hits the mark with his bass thumping rework as dubbed out vocals weave through swelling synth layers riding over a chunky beat. Philly's Rob Paine rounds out the package nicely with a straight up booty shaking dancehall rendition.
Please support indie labels and DO NOT copy or share! Respect and rock the disco-tech!
Artist Feedback
François K: All versions are great, will definitely be playing this.
Danny Krivit: This is great!
Wolf + Lamb: Feelin the Petalpusher disco jam.
Satoshi Tomiie: Petalpusher remix is tasty! Like!
Mr.V: THE MAD PROFESSOR DUB!!! YES YES YES!!!!
Grant Nelson: Quality production!
Tom Findlay (Groove Armada): Great stuff!
Rasmus Faber: Fantastic work Miguel! Full support from myself as always.
Andy (Inland Knights): Petalpusher mix and Mad Professor is cool.
Dj Schwa / Shades of Gray: awesome stuff. Thanks!
Llorca: Lovin the Petalpusher dub… very very nice.
Groove Assassin: Petalpusher nail this one!! RIDIM!!!
Fred Everything: Very nice to see Mad Professor on the remix. My fav of the bunch w Petalpusher's one. cheers!
Q-Burns Abstract Message: Petalpusher Mix + Mad Professor Dub Version 1 for me. Impressive production on both … thanks.
Ralph Lawson (2020 vision): Great to have Mad Professor remixing House tracks. I have been a fan of his since I was 17! I think the Petalpusher mix is also great.
Soulmagic: It's all about the Petalpusher Salted Disco Dub for us. Salted keeps bringing the heat. Massive respect for the extreme consistency and putting quality releases out.
Mannix: Petalpusher Dub for me.
Evren Ulusoy: Excellent package! Thanks!
Karol XVII & MB Valence: petalpusher salted dub is very nice. thanks for sending
Sonny Fodera: Top notch as always Miguel!
Jask: Dope all around:)
Dubble D/Moodymanc: love it!
Chuck Love: Irie!!! All mixes are great. The Garza mix is bumping me the deepest..
Jazzy Eyewear: This is an amazing remix package!, Deep, fresh and sexy!
Asad Rizvi: A Mad Professor remix of Migs? A great bit of A&R here. Feeling the dubs: MP for home and PP for the floor.
Pete Herbert: great track and remixes…. mad prof and Petalpusher mixes my favs..
Andy Ward: SELECTA!!! big! On the show for the next few weeks..
Richard Earnshaw: Eclectic vibes….dig it!
Benji Candelario: Good Selection!
Stuart Patterson: oh yeah.. Miguel Migs and mad Professor on one release..
Arco: Petalpusher mix for me! Definitely! Nice release Thanks
James Dexter: Nice, Petalpusher mix for me :)
Seb Skalski: OMG Mad Professor in da mix!! awesome!! also much like Petalpusher vibe!!! Support!