"I'm not, I guess, a typical dance artist" Miguel Migs opens. "I'm not the trendy club guy. I'm not a follower of trends. I just stay true to what I know and feel. I'm a spontaneous kind of music maker; I go with the flow. That's my personal agenda and that for me is my artistic progression." It is, of course, a winning mantra; one that by ignoring the wider musical landscape and focussing on personal experiences and sensations creates, inadvertently, its own trends – big ones. There's no doubt Miguel Migs is widely followed and you'd be forgiven for thinking it's the fruit of years of careful, painstaking planning.
The painstaking part, however, is kind of accurate. "I put the time in" Migs confides. "I enjoy what I do but I do work hard in the studio and commit a significant amount of time to performing, and making sure I perform well. As for masterplans? That's not me; I'm just rooted in what I feel and what I like hearing."
And that, broadly speaking,, is funk, soul, jazz, reggae and disco – the varying shades of the soulful music spectrum with which he grew up in Santa Cruz, a California city some 70 miles south of San Francisco. A young, 18-year-old Migs mastered playing the guitar, found his way into a local reggae band (Zion Sounds) and performed dub and world-beat grooves extensively during late Eighties and early Nineties. But come 1991, he was starting to drive up to San Francisco and check out the deep house parties promoted by Love Garage, King Street Garage and Together. Those off-the-cuff road trips sparked new and wildly creative ideas.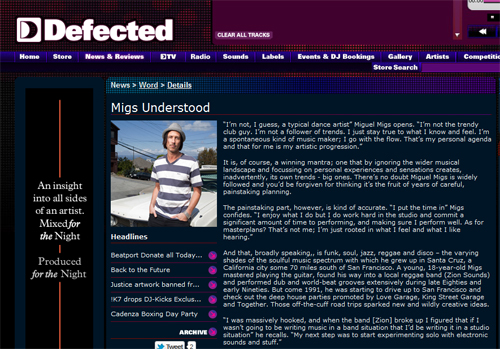 "I was massively hooked, and when the band [Zion] broke up I figured that if I wasn't going to be writing music in a band situation that I'd be writing it in a studio situation" he recalls. "My next step was to start experimenting solo with electronic sounds and stuff."
Migs moved to San Francisco in 1994 and started DJing whilst looking to find his sharp new angle in the studio. Crisp, effortlessly soulful house productions started to appear on eminent West Coast labels OM and Naked Music, incorporating his earlier aural loves; in turn, a global DJ profile snowballed and, in 1998, Migs launched the revered Transport imprint alongside DJ MFR and Naked Music director Bruno Ybarra. In the years since then, he has released two acclaimed long-players Colourful You (2002) and Those Years (2004) and created another, busy label Salted Music.
His third album, Outside The Skyline, is launching as we speak; it is why we're here. Does he feel that he has grown as an artist over the three works? "I've certainly learnt how to put things together better but stylistically I haven't really changed and I'm kinda lucky like that" he says. "I think it must drive some of the younger guys crazy trying to keep up with the latest electronic styles and crowds… trying to impress everyone all the time. As I say, I've always just concentrated on what I love, and believed in that music. I don't mean to sound corny but, truly, if you believe in what you're doing then the authenticity in the music shines through and audiences will relate to that. That's certainly my experience."
All three of Migs' albums offer the same bubbling, intoxicating stirring pot of soulful dub, soul and funk sounds, all stylishly applied to a smooth, but meaningful house blueprint. Where there are elegant guest vocals, neatly edited drums and finely honed bass-lines, there lies also thoughtful lyrics, heart-stirring emotions and deep melodic progressions; if anything, Outside The Skyline is Mig's most powerful fusion of style and substance to date.
The new record's impressive list of collaborators also adds much – everyone from original disco diva Evelyn 'Champagne' King and soul sophisticate Meshell Ndegeocello to dancehall kingpins Capleton and Freddie McGregor, Latin legend Bebel Gilberto and fast rising Berlin-based singer-songwriter Georg Levin.
It must have been a supreme challenge for Migs to channel such diverse and distinctive characters into his over-arching vision one wonders? "Not really" he calmly counters. "They were all genuinely a pleasure to work with. The process of collaborations totally flowed from start to finish. The hardest part, actually, was marrying up schedules across different time-zones and cities but we got there. And when I had that day or so with each of my collaborators, the time was well spent; everyone was totally enthusiastic."
An answer totally in-keeping, it would seem, with this interviewee's 'chilled, surfer-dude' personna (as other commentators have described it). There's no denying Mig's incredibly laidback, ease-putting manner; an approach which more than translates to the mixing desk.
"I build ideas casually… gradually" he confirms. "I'll just play around with some beats and chord progressions and see where I get. Then, the ideas come, and I start to work out if the track is going to be instrumental or need vocals… if it fits with a particular idea or mood."
It all sounds like a fairly drawn-out process and, certainly, there have been lengthy pauses between albums; something Migs is mindful of, but not overly concerned about: "I would like to get even more focussed on the studio moving forward. I have ideas for albums dedicated solely to dub and to live instruments… kind of a live, organic approach to the sounds covered by the albums I've already done. I'd also like to work with a particular vocalist and produce something definitive for them. But it's finding the time. I've been on the road pretty extensively for the past 15 years and, as laidback an environment as San Francisco is, when I'm recording there I do make the most of the time I have. I really do."
There's also, being fair, the running of Salted Music to consider. Migs' small sonic enterprise has grown rapidly since its low-key launch. "I never really wanted a hectic label to run" he offers. "It was a necessary outlet for my ideas but, at the same time, it was meant to be a fun thing. I really enjoy being able to provide a platform for young, exciting producers to experiment on but Salted has taken up more and more of my time; it's a lot of effort now… it's hard to think about expanding it further."
Nonetheless, Salted's upcoming schedule is weighed down by a seriously heavy (in the best sense of the word) stack of releases from regular cohorts like singer Lisa Shaw (who also features on Migs' new album) and relative newcomers including Argentinean Jay West and Aussie Sonny Fodera.
And Migs remains chirpily upbeat about his long-term future. "It's an absolute pleasure to be working with something I love so much" he concludes; "I'm actually enjoying making music – be it behind some decks or in the studio – more than ever.
"There's often talk about the West Coast [dance scene] quietening down since the Nineties, and Europe or somewhere else taking over but that's just the media having to report on new things and I get that. Truth is San Francisco has so much going on right now and it's great to be part of that. There's lots of different electronic music getting made and room for everyone to keep evolving. That's the joy of electronic music for me; the real joy. It's not at all limited… you can apply it to almost anything. I just go with it, and with my life…."
Source: Original article published at Defected Records by Ben Lovett.