In The Heat (Miguel Migs Remixes)
Corrado Rizza, Global Mind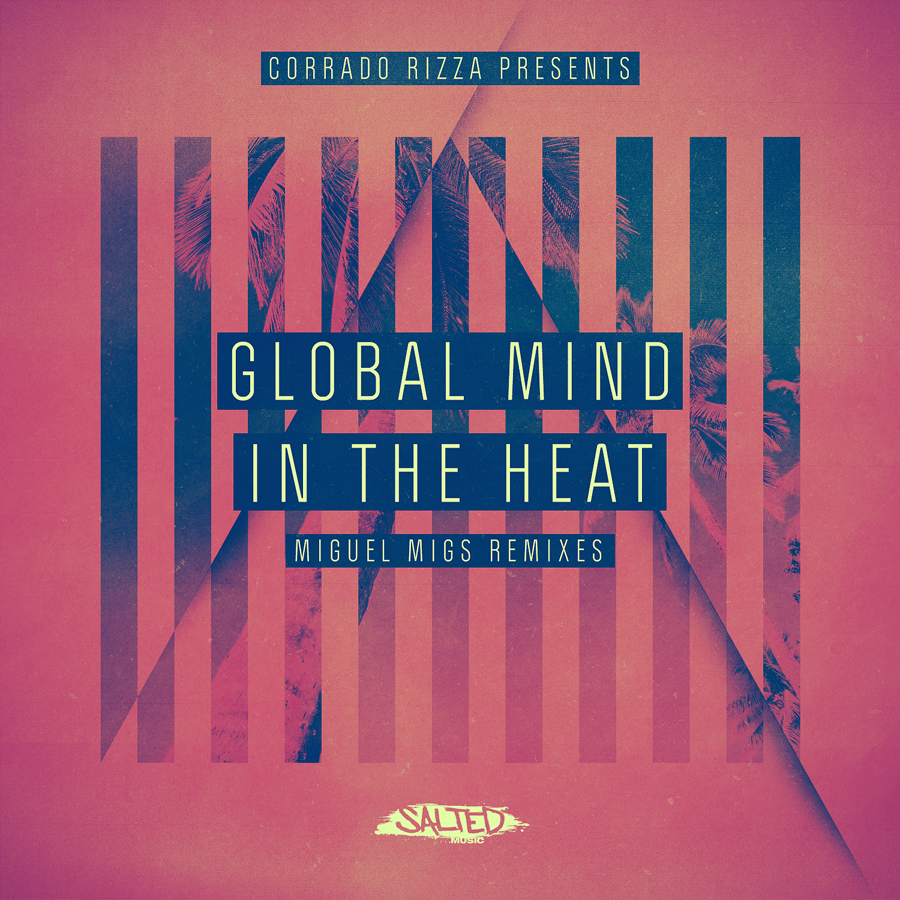 Available at: Traxsource | Beatport | iTunes
SLT065: Corrado Rizza presents Global Mind
In The Heat (Miguel Migs Remixes)
Release Date: July 2, 2013
1. In The Heat (Miguel Migs Salted Dub)
2. In The Heat (Miguel Migs Deluxe Deep Dub)
3. In The Heat (Miguel Migs Deluxe Vocal)
Release Info
'In The Heat' was originally released in 1995 and remixed by legendary producers Victor Simonelli and Marshall Jefferson.
Jump to 2013 and 'In The Heat' gets the remix treatment courtesy of Miguel Migs, infusing current production values while maintaining classic deep and soulful tinged flavors combined to create a well crafted balance.
The end result is a smooth thoughtful selection of quality remixes to choose from and plenty of fine ingredients including some silky synth chords, edgy key stabs, deep bouncy basslines and stripped down beats with the classic vocal creatively chopped up and dubbed out.
We hope you enjoy!
Artist Feedback
Mark Farina: Smoothness.
Inland Knights: Lovey stuff! Very nice…in the box!
Sonny Fodera: Vibing this!!!
Soulmagic: The kind of quality you always get from the Migs productions. This is tight – definitely in the heat!
Giom: Cool release, will definitely test out. Thanks guys
Jim Baron (Crazy P): Well chunky…nice one!
Groove Assassin: Slammin stuff from San Fran's finest!
Richard Earnshaw: Deep vibes!! Top draw.
DJ Schwa / Shades of Gray: All 3 cuts are hot. Tight sound.
Seb Skalski (Deeplomatik): Good tracks!!! No Doubt Mr. Migs is NO# 1 player in Future Deep Sounds!!!
Peter Christianson (Lawnchair Generals): Deep in the heat! Thanks!
Johnny Fiasco: Will support!
Jeff Craven (Large Music): Great rework of a classic. All mixes club ready, but i am gonna go with deluxe deep dub.
CJ Mackintosh: Loving the Salted Dub :)
Trevor Mac (Jalapeno Records): Quality deep business from Miguel…
Manuel Sahagun: Vocal version for me! sounding great as usual.
Chris Samba: DOPE DUB! Gotta groove!
Husky (Random Soul): rocking pair of dubs from Migs here.. These will work well for me!
Dave Mayer: This is perfect!!!!
Jay West: Nice release!
Jask: Nice Remixes!
Tom Hoch (Beta / Denver): Nice take on a classic track.
J Boogie: dope! nice update, sounds great!
Nathan Lee (Hed Kandi): Killer tracks..Absolutely love it!!!
Nicc Johnson (Pacha Ibiza / Ibiza Global Radio): Solid fresh update. Gonna have to go for the dubs here.
Bangana (Heya Nights): Fine dubs.
Henri Kohn (Clubstar): Very nice. classy remake of a classic track!thx
DA SUNLOUNGE: Nice vibe!
BLACKSOUL: Dub for me! Dope!
Rick Preston: Amazing!!!
C&M Productions (True House Radio): Miguel is Great as always!!!
Micky More: Love what I'm hearing!!!
Willyum / Will Putney (Worship Records / Shakedown – Philly): Diggin' the touch of darkness in this remix pack. Nice future-retro sounds!
Randy Schlager (DMX, Inc / KNHC 89.5 FM): Sweet, smooth, and deep nugget here.