Down To It
Miguel Migs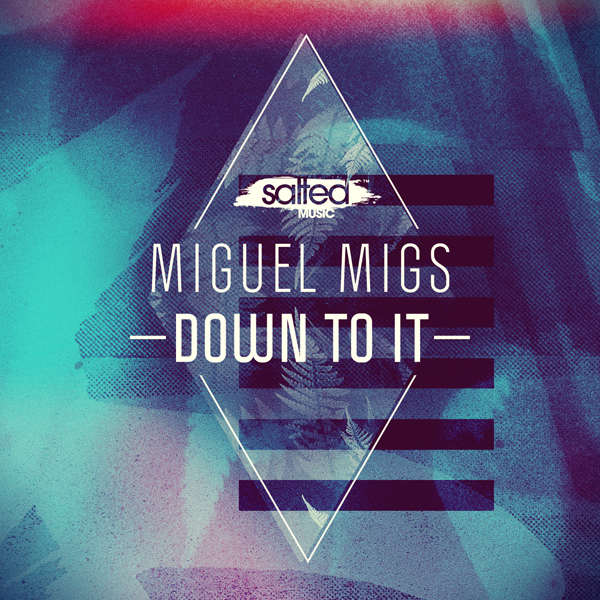 Available at: Traxsource | Beatport | iTunes | Vinyl
SLT071: Down To It – Miguel Migs
Release Date: February 18, 2014
1. Original
2. Deep and Salty Mix
Release Info
As we launch into a brand new year we also celebrate 10 years of Salted with a bang!
For our first release of 2014, Migs lets loose with this tasty little morsel of goodness – already test driven all around the globe to many smiling faces and trainspotting reactions.
An upfront stellar and punchy bassline is the star of the show with warm glowing synth pads and rubbery stabs to keep things bouncing.
The classic chopped up vocal sample filters in while glittering strings entice the senses for an all around dance floor delicacy.
Please support indie labels and DO NOT copy or share! Respect and rock the disco-tech!
We hope you enjoy…
Artist Feedback
Justin Martin (Dirtybird): Really feeling this one.. both mixes are great!
Mark Farina: Dig this!
Sonny Fodera: Nice release!
Giom: Nicely done!
Jamie Lewis (Purple Music): Wonderful funky & deep.
Mr.V: MIGUEL!!!! C'mon man….
DJ Mes (GuestHouse Music): Migs got down to it alright! This is the BOOGIE! So dope!
Richard Earnshaw: Lovely stuff…
Kiko Navarro: Groovy classic migs sound.
Groove Assassin: This is a BEAST…. SLAM JAMS!
Manuel Sahagun (OFF Recordings): Deep & Salty mix for me, dope vibe!
Soulmagic: What better way to start your year than with some quality from Migs. Love this!
Jay West: As always Migs is at another level of class.
CJ Mackintosh: Phat!!!
Marques Wyatt: Dope!
Danielle Moore (Crazy P): Love this great grooves. Love the more constant groove of the first track but def player for me!
Nicc Johnson (Pacha Ibiza / Ibiza Global Radio): Will be working the salty mix this weekend
Nick Haussling (Warner Bros. Records): Happy 10 Years! Migs can do no wrong. Straight funk.
Jeff Craven (Large): Yea man. love it. Gonna be playing for a few months. Happy 10 year! Here's to 100 more!!
Jask: Bumpin' quality niceness. Miguel on point!
Michael Fossati: The Salty dub is an uber cool deep mesmerizing gem guaranteed to jam-pack the floor.
Yogi (Random Soul): Loving the slower deeper vibes bro, keep it comin!!!
Trevor Mac (Jalapeno Records / Floorplay Music): Classic styles. always happy to get tunes like this.
Husky: Nice groove on the original, Migs trademark on this one.
Dj Tomas (KUSF): A perfect track – those Rhodes stabs are rude, and the other elements shine. Already my pick track for spring/summer festival dancing.
Seb Skalski: Nice Slices!! Feelin the Fatness of both of them!! Full support!!
Dave Mayer: This is fucking awesome!!
DJ Neil Pierce (Rhemi Music): Migs does it again!!
Curtis Zack (DJ Times / Defected): Class.
Dario d'Attis: Very hypnotic synth groove… banger…
Evren Ulusoy: Deep and salty :)
Fernando Mujica (Extravaganza Magazine): Classic house sound. Migs is now the new hero.
Henri Kohn (Ibiza Global Radio): Coolness…
J&M Brothers: Love it!
John Jones (Hed Kandi): Loving the original mix guys!
Jeannie Hopper (Liquid Sound Lounge): Funky baselines, always on point and Salty! Adding to radio and gigs.
Julius Papp: Diggin' the original. It grooves!
Fabio Tosti: Miguel on fire!!! Full Support!