Dance and Clap
Miguel Migs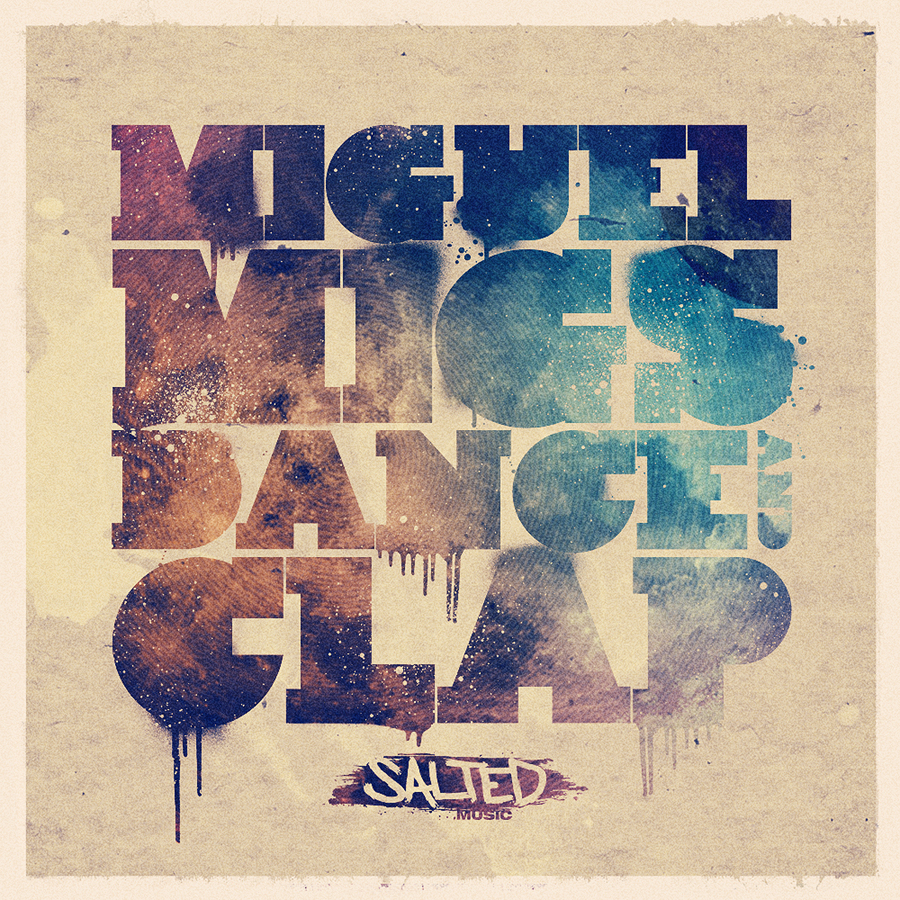 Available at: Traxsource | Beatport | iTunes

SLT055: Dance and Clap – Miguel Migs
Release Date: August 14, 2012
1. Dance and Clap (Original)
2. Dance and Clap (Soul Bounce Mix)
3. Dance and Clap (Deep and Salted Mix)
4. Dance and Clap (Down Low Disco Mix)
Release Info
After his soul tinged #1 single "Tonight", Migs returns back to basics with "Dance and Clap", a fun, deep and dubby track based jam with an underground edge, containing plenty of knob tweaked pads, subtle synth melodies, thundering bass grooves, and rhythmic vocal arrangements.
One for the dance floor in mind and reminiscent of his earlier 'track' based works, Migs knocks out these little gems for Salted.
It's just some tracks for fun, so don't trip! Enjoy and stay creative and open minded…Much love!
Artist Feedback
Josh Wink: Dig the low disco version!
Danny Krivit: very nice!
Kaskade: DOPE!
Mark Farina: Track: sweet!
Chris Todd (Hot Toddy / Crazy P): Nice EP, like all 3 takes…
Fred Everything: Nice dancefloor jam. Original for peak time and Down Low Disco mix for early nights/podcast. Thx!
Giom: Down Low Disco Mix – Nice!
Inland Knights: Spot on!
Tony Humphries / Jacko: Great track!
Scott Wozniak: Love the energy of the Original Mix. Works for me. Full support!
Raul Campos (KCRW): Migs on point once again! Thanks for the great tune sir!
Soulmagic: What a groover! Will get people dancing and clapping to this gem!
Grant Nelson: Love it. Full support!
Ralf GUM: Will work well in my peaktime sets in Europe.
Hardsoul (Greg): nice!
Sonny Fodera: Dope!!!!!! Hard to pick a favourite mix!
Yass: Great Pack!
Jamie Lewis: Soul Bounce Mix – I like!
Shades of Gray (Dj Schwa): Perfect for me. Will hammer the original this weekend in Prague and Berlin.
Mark Robinson (peppermint jam): love love love…. the real shizz!
Marques Wyatt: Needless to say, I'm feeling the Deep and Salted Mix;-)
Da Sunlounge: Great dance floor track, thats going to work a treat i'm sure. All in the bag! Strong EP.
CJ Mackintosh: Original & Soul Bounce Mix for me…Working!
Groove Assassin: SLAMMIN!!!
Nickodemus: a sureshot!
J Boogie: Dope! Great sounds.
Trevor Mac: still the man.
DANISM (Defected): Good sh*t Bro – thanks ~Dan & Dan Danism xx
Chris Samba: Soul Bouncin right now…. DOPE!!! Summer Jam!
James Dexter (Om Records): Nice One, Deep and Salted mix for me.
Christian Alvarez: Another bomb!
Dutchican Soul (Niels): Nice one!! The man with the sound!! Sweet, will be supporting as usual! Thanks…
Joshua Heath: Deep Salted and Down Low Disco mixes for me!
Dario d'Attis: Definitely a monster release.
Jay West: This will absolutely rock my dancefloors!!
Dave Mayer: Bootyshakerrrr!!! Perfect release!
Franksen: love love love this!
Arco: This is huge(as usual from Migs) and I love it!
Seb Skalski: Very Cool tracks!!! Straight to my box!!!
Mr. Moon: Awesome! All edits are great but if i have to pick…. Soul Bounce Mix is the one for me!
Husky (Random Soul): Liking the groove on the original and the Salted Mix the most.
Louis Benedetti: Nice Groove! In the bag!! Thanks!