Bigger Funk EP
J&M Brothers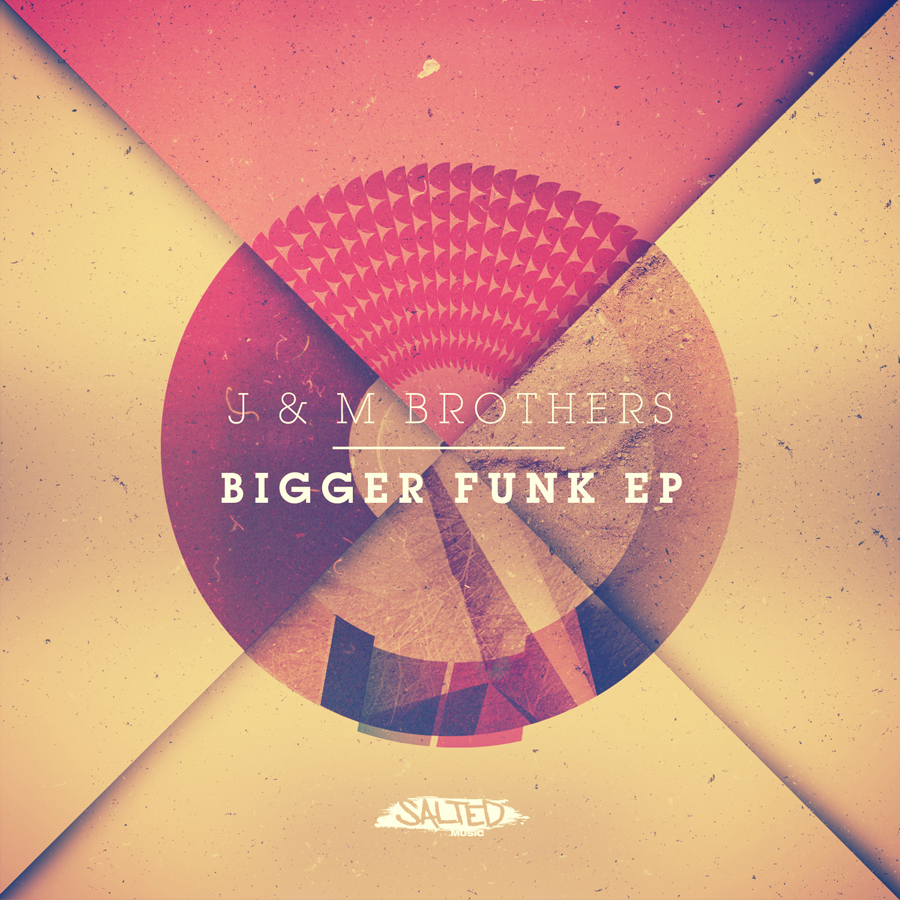 Also available at: Traxsource | Beatport | iTunes
SLT062: Bigger Funk EP – J&M Brothers
Release Date: April 16, 2013
1. Bigger Funk
2. I Need You
3. Over You
4. Road Runner
Release Info
J&M Brothers make their return to Salted with a healthy dose of funk flavored grooves and some deep jams, veering away just a little bit from the standard formula and favoring a more live and bouncy approach, this EP takes us back to simply enjoying music for how it makes us feel, as well as making us dance.
"Bigger Funk" dives into a straight up feel good 90's funk territory, big bouncy beats pave the way while warm chords, horn hits and funky vocal snippets keep things moving along.
"Lets Do It" has a deep chunky dance-floor hypnotic feel with a steady groove and layers of cool keyboard melodies and organ stabs.
"Over You" is a deeper blues joint with a smooth and soulful yet haunting vocal hook and a laid back feel to it.
"Road Runner" gets back to the cool funk sounds with its rockin live drums and steady yet subtle elements all building up throughout this booty-shaking boogie provoking little jam.
Artist Feedback
Danny Krivit: I like this…
Greg (Hardsoul): Nice!
DJ Sneak: Cool music, thanks!
Soulmagic: J&M Brothers on form! "I need you" is the one for us.
Richard Earnshaw: Nice jams! Will support. ;)
Da Sunlounge: I need you is nice!
Giom: Nicely done!
Andy (Inland Knights): cool!
Dj Schwa / Shades of Gray: Wicked. Bigger Funk is a proper old school house music. Reminds me of Pete Heller. Good one :)
DJ Mes (GuestHouse Music): Bangin! Really diggin' this! Sounds warm and fresh.
Tony Humphries / Jacko: Funky tracks here, full support! Very nice EP!
Mr.V: Damn Salted Isn't playing around this year huh?!
Jim Baron (Crazy P): Good funkee stuff y'all. cheers…
Seb Skalski: Cool tracks, very funky vibes here. I Need You and Road Runner are outstanding. Full support!
Scott Wozniak: "I Need You" is the cut for me. Nice job. Will support.
Danielle Moore (Crazy P): Really like tracks 2 and 4, 3 then 1. Love the alternative to house music. Love the groove and the dancefloor ability! Great release!
Groove Assassin: Supporting this HEAVY!! Bigger Funk does the bizz!
BLACKSOUL: Road Runner for me…. pure funk. cool!
Dutchican Soul (Niels): Nice EP! Like the Bigger Funk and Road Runner tracks a lot! Support as usual.
Trevor Mac: Tasteful funk business perfect for Jalapeno sound system sets.
Dave Mayer: I love these vibes.. 4 solid tracks!!
Yogi (Random Soul): nice underground vibes here… will be playing in my sets for sure…
Husky (Random Soul): Bigger funk has the early club groove for me.. nice vibes on Road Runner too..
Bryan Jones: Cool ep. I like most of them. 1 and 4 stick out to me.
Tom Hoch: This is the type of music I like to play and we ride on them things like every day.
Jask: Like all tracks…Solid.
Neil Pierce (Soul Heaven): Road Runner is my pick of the bunch.
Benji Candelario: Good groove!
Jay West: Nice!