All Nations
Christian Alvarez feat. Mr. V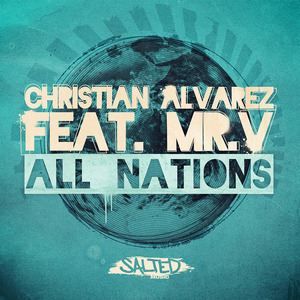 Available at: Traxsource | Beatport | iTunes
SLT049: All Nations – Christian Alvarez feat. Mr. V
Release Date: August 26, 2011
1. Original Mix
2. Soledrifter Vocal Dub Mix
3. Soledrifter Smooth & Saxy Mix
4. Christian Alvarez Underground Mix
5. Christian Alvarez Underground Dub
Release Info
We are delighted to deliver Christian's new baby 'All Nations' featuring none other than Mr. V on vocals who sends a shout out to the dancers and house music lovers around the globe.
The 'Original Mix' provides a deep jazzy feel to it reminiscent of that classic Soulfuric style sound, while Christians Underground mixes toughen things up a bit for a bigger room appeal.
The Soledrifter remixes bring some serious groove, with stripped down crisp beats, deep and squelching synth bass lines and chopped up elements providing deep, jackin and funky influences to both mixes.
As Mr. V says, we are indeed "one nation under a groove"!
Please support indie labels and DO NOT copy or share! Respect and rock the disco-tech!
ARTIST FEEDBACK
Tony Humphries: Cool spoken word track. The Underground Mixes work for us!
Danny Krivit: Very Good!
Grant Nelson: Yeah baby
Scott Wozniak: Feeling the Christian Alvarez Underground Mix the most. Will definitely support on my mixshow and DJ sets!
Inland Knights: Nice one!
Johnny Fiasco: Tight!
Jask: This is Smokin Hott!
Groove Junkies: Top shelf Funky house. Solid package guys. All mixes are sweet.
Joshua Heath: Soledrifter's mixes for me!
J Boogie: Nice and deep digg the horns.
Dave Mayer: Dope stuff!! Thanks!
Soulmagic: Massive collab between some of the greats!! Big up Christian and Victor!
DJ Dealer: Underground Mix all the way, nice one!
Dutchican Soul: Liking the Original Mix here.. Will be supporting!
Richard Earnshaw: Soledrifter is cool!
Groove Assassin: CA Underground Dub is the one for me! Great package!
Russell Deeks (IDJ mag): Proper bumpin' stuff!
Massimo DaCosta: Really loving the original – gets my full support on this. thx!
Inland Knights: House house house music! Thanks!
Arco: Great EP,original mix for me!Love it..Thanks!
Seb Skalski: Pure House music!!! Full support!!
The House Inspectors: Smooth and saxy mix right up our alley!
Chris Samba: Good summertime deep vibes…
DJ MFR: Solid release! Full support.
Jay West: Alvarez for me, nice release!